Lift Products
Loading Dock Equipment
Hydraulic Dock Lifts
Hydraulic Dock Lifts help keep loading operations more efficient, especially where space is restricted. Dock lifts are a cost-efficient alternative to expensive and space-consuming truck well recesses and concrete ramps. Dock Lifts can accommodate a wide variety of truck styles; from 20″ step vans or pick-up trucks to high cube vans, standard semi-vehicles and 60" high stake bed vehicles.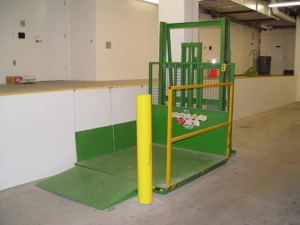 Rail Lifts
Rail Lifts are a cost-efficient, powered loading dock solution when a surface-mounted lift is required. Rail Lifts are completely self-contained, easy to relocate and are simple, fast and inexpensive to install.
Combination Dock
A combination dock marries the speed and efficiency of a hydraulic dock leveler with the versatility of a scissors lift, eliminating the need for dedicated docks equipped with expensive concrete ramps or dock lifts. This dock leveler and scissors lift combination can service almost any "above grade" application.
Truck leveler
Longer and lower vehicles present new challenges for today's loading dock operators. Truck levelers are used in applications where a dock is too high or low to service vehicles with conventional dock levelers. Truck levelers safely raise or lower the vehicle to match the height of the loading dock. This allows for safer loading operations, especially in wet, icy or inclement weather conditions.
Scissors Lift Tables
Scissors lift tables provide versatile, ergonomic and safe lifting solutions for virtually any material-handling application. By bringing the work to the worker, our lift tables not only increase a factory's productivity, they reduce worker fatigue and drastically decrease the risk of serious back injuries to workers.
Turntable Lifts
Turntables allow workers to rotate their work to them, rather than walking around it. When used with a lift table, a turntable reduces reaching, bending, twisting and walking associated with palletizing operations, easily enhancing both ergonomic and labor-saving benefits.
Tilter Lifts
Small parts and components are typically stored in bins and baskets that are difficult to access. Tilters position parts and hard-to-reach objects within easy reach of workers. Tilters minimize reaching and bending over, thus reducing the risk of back injuries.
Double Scissors Lift Table
Double scissors lifts provide operators with a high-traveling, adjustable work platform without taking up valuable floor space. In fact, double scissors lifts utilize the same platform size as standard scissor lifts.
Air Lifts
Air-powered lifts provide unrivaled portability and ease of installation thanks to an airstroke actuator and standard fork pockets. These flexible lifts combine a safe and clean activation system (no electricity or hydraulics required) with the ergonomic advantages of lift tables, giving you easy-to-use, easy-to-move power when you need it most.
Air Tilter Lifts
Air-Powered tilters combine a safe and clean activation system with the ergonomic advantages of tilters. An air tilter utilizes an airstroke actuator and come standard with fork pockets to allow easy portability in addition to ease of installation.
Zero Lifts
A zero lift table lowers to ground level for easy loading of wheeled carts or pallet jacks.